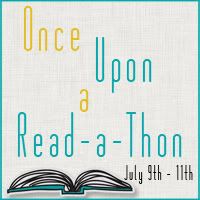 I'm going to participate in
Bailey
from
IB Book Blogging
's
mini-challenge
--mainly because it's a fun challenge, but also because I've only read one of the books that
Loretta
from
Between the Pages
asks about in her
challenge
. Bad blogger!
If you're participating in the read-a-thon and want a chance to win a book from Bailey's ARC pile, create your own post answering these questions and link up your post to the
linky
.
Question 1:
What is your favorite cover that has been revealed this summer and why?
I have to say that my favorite cover reveal has been
J. K. Rowling
's book
The Casual Vacancy
. Not because the cover is amazing, but because it is so NOT what anyone expected.
Even the blurb is kind of meh, so I can't help but wonder what is up her sleeve.
Question 2:
Do you rely on the cover to help you choose whether you want to read a book or not?
I definitely rely on covers to decide what to read--especially when I'm at a bookstore and mainly because it attracts my attention. I would say that covers probably sway me more for YA books than for regular fiction, since the designs are often so different. There's a reason so many YA books have girls in pretty dresses---it's because pretty dresses attract my attention!