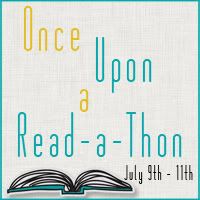 I hadn't really set any goals for this read-a-thon since I have to work all three days and work my second job tonight. Also, this crazy weather has been messing with my head, I spent most of Sunday night with a migraine and I spent most of yesterday hoping it wouldn't come back.
Despite that, I did manage to finish one book yesterday:
Circle of Fire
, the final book in the Prophecy of the Sisters Trilogy. I'll write a full review later, but basically this book was a disappointing for me as
the last one
was.
Michelle Zink
had some interesting ideas, but the books are plagued with "nothing-is-actually-happening" syndrome. Yes, the final book wraps up the loose ends, but
meh
.
I think I'm going to start on
The Calling
in a bit. Since I have to work tonight, I doubt I will finish it.
Today I'm participating in the mini-challenge hosted at
Kindle Fever
by
Bex
:
Once upon a time there was a bookish fight…
As the story teller, I now want you to tell me which two characters are fighting and WHY! If you want to, you're also more than welcome to guess the outcome. ;)
It doesn't have to be anything too detailed; we're here to have fun!
I'd like to see Harry Dresden (from Jim Butcher's Dresden files) and Jill Kismet (from Lilith Saintcrow's Kismet series) in a showdown. But they wouldn't be fighting because they are angry with each other, since they both fight to protect their cities, this would be an opportunity for them to practice their skills. Both of them kiss major paranormal ass, so I'd like to see who would come out on top--or would this fight just never end?